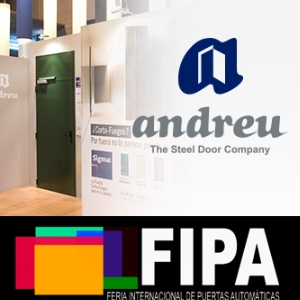 From 8th to 10th February Feria Valencia will host the first international Automatic Door Congress. The high number of exhibitors, that have already confirmed their attendance in FIPA 2017, shows that it is an important appointment. To meet the increased demand of exhibitors it has become necessary to expand the surface of the exhibition and prepare Pavilion 5.
With more than 10.000m2 and about 55 exhibitors from different countries, FIPA 2017 is born as a new trade show with its own brand: The Spanish Congress of Automatic Doors (residential, commercial and industrial), Automatic systems and Accessories.
With more than 40 years in business, Andreu (based in Valencia), could not miss this opportunity of being part of the first edition of FIFA. In Stand C55 Andreu will display its wide range of Fire-rated, Multipurpose, Commercial and Residential doors with different settings of Automatism.
With its presence Andreu backs its clear commitment in meetings of this kind, fully aware that it is major driver of the national and international economy.
Let's meet at FIPA 2017.