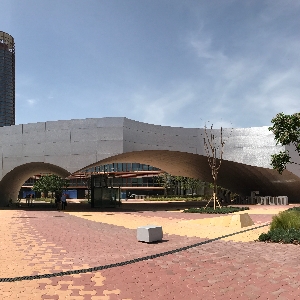 Andreu is since a long time a preferred partner for both, major building companies and major architectural firms; especially in projects of high complexity.
The emblematic CaixaForum in Seville is a good example of this, where the prestigious architect Don Guillermo Vázquez Consuegra, National Architecture Prize, has requested Andreu to provide a customized solution adapted to the singularity of this work; a combination of social and cultural space in connection with the city and business center.
Doors of enormous dimensions, lined with different materials depending on the environment to personalize spaces, with invisible hinges and concealed door closers. Among which stands out the imposing set that separates the backstage from the auditorium. This one, is made of 4 inclined leaves with central pivoting axis, has posed a challenge for the technical development of fully customized products, maintaining its full functionality.
We are still looking for new challenges.