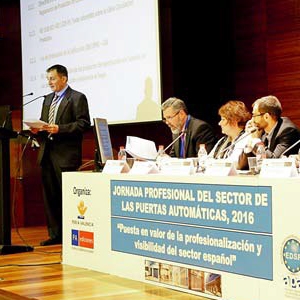 On February the 4th it was held at Feria Valencia a Technical Day about Doors under the title: "Professional Day of the automatic doors sector, 2016: valorization of professionalism and visibility of the Spanish sector."
Among the professionals who participated in the day was José Vicente Andreu, Coordinator of the Committee of Fire Doors Tecnifuego-Aespi. In his speech he analyzed the current situation of the Fire Doors in relation to the applied standards.
In addition, as spokesman of the Committee for the National Renewal of Industrial, Commercial, Residential and Fire-Doors, he presented the reasons and benefits of the plan, giving an estimate of the doors to renew, adapt, modify or replace in the entire Spanish territory.