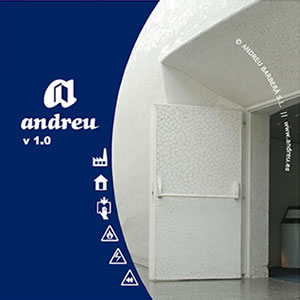 Andreu's continuous progression and commitment with the New Technologies enhances the global distribution of its products by assisting the Prescribers (architects, designers, engineers) with all the technical information and description of our products so they can include them properly in their projects.
Such information is gathered in an interactive CD-ROM that comprises four main areas:
* Company. Describes the history and progression of the Company, including information about the facilities, manufacturing process and quality control.
* Technology. It displays all the technical range and updates that have allowed us to attain high quality levels recognized by reputed certifying bodies; and also a FAQ zone regarding the new (Spanish) Building Technical Code "C.T.E."
* Range. It features all the families of products: Fire Rated, Multi-purpose, Residential Doors and Accessories, displaying detailed information about sizes, finishes, certifications, full technical description, available accessories and assembly recommendations for each one of them.
* Customer Tools. It contains a comprehensive photo collection along with intuitive and user-friendly tools that allow the configuration and guided choice of the most suitable product. Once the products are chosen, the tool can submit the entries to our Commercial Department for them to elaborate a quotation and reply to the customer.