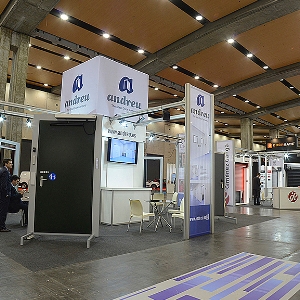 The excellent results with which the first edition of the International Fair of Automatic Gates, held from February 8th to 10th; has allowed us to face with great enthusiasm the upcoming FIPA 2019 trade fair.
With more than 70 exhibitors among companies, associations and collaborators; FIPA 2017 has been revealed as an important event with a marked professional and international character, and with a great future.
Andreu used the occasion to present five different variants of doors with their very interesting automatisms. From a simple Residential door, model Line, which was fitted with an electric strike; to a complex Sliding Fire Rated Door, model Rodas, fitted with a semi-automatic mechanism Dictator, to control the opening and closure. We also showed an Acoustic door, model Fono-Turia, with a Besam door opening system; a Multipurpose Sliding door, model Slide with a Metalblind Double Leaf door opening system, or a beautiful Sigma Hotel model with a Smartair handle from Tesa.
Andreu, as a reference in the manufacture industry of doors and accessories, has not only participated in FIPA 2017 as an exhibitor but has also been very actively involved in the organization, promotion and development of the Fair. Proof of this is the participation of José Vicente Andreu at the First International Congress of Automatic Gates as speaker and organizer. José Vicente Andreu, as President of APA, Association of Automatic Doors and Coordinator of the Fire Doors Committee of Tecnifuego-Aespi, presented in his speach the APA seal of Registered Company for companies installing and maintaining automatic doors: commercial, residential, industrial And firewall. The APA seal will show the professional training for the installation and maintenance of the automatic doors of the company that holds it.