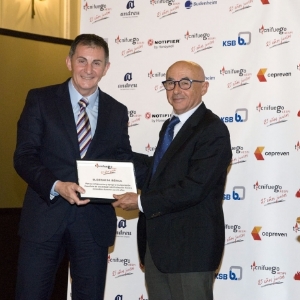 "25 years together" was the ceremony, which took place last 21th February, held by TECNIFUEGO-AESPI, Spanish Association of Fire Protection Societies, to commemorate the 25th anniversary of the its foundation. Andreu Barberá, as sponsor of this memorable event, awarded the founding companies of the Association.
Since 2004 Andreu is member of TECNIFUEGO-AESPI, on Door Committee and on Passive Protection Products Committee, whose primary mission is to promote the quality of standards and products to provide an effective and real fire protection, and to ensure professional skills of the sector, participating in Standardisation and Regulations at national and international level, and promoting awareness of fire risk and the importance of prevention. TECNIFUEGO-AESPI is recognised industrial sector interlocutor both before Administration, and before various public and private bodies. Furthermore, among other activities, this Association organises training and informative sessions for installer and for end user.
The work carried out by TECNIFUEGO-AESPI Committees, actively participated by Andreu, is essential in the development of the Protection Against Fire (PCI) in Spain, where fire-rated doors are a vital element. Andreu is a benchmark to this product.