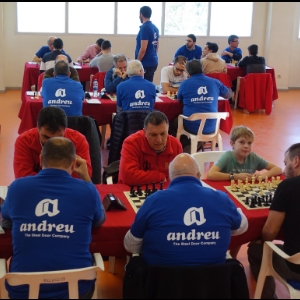 Andreu Barberá SL recently started a collaboration with the Paterna Chess Club with the aim of supporting this sport by supporting an emblematic paternal society with a long history of 60 years.
Andreu Barberá has always been sensitive when it comes to participating in projects that can benefit our environment, whether from the cultural, social or sports sphere so we find the project very attractive. Chess promotes the intellectual and recreational aspects of the person, promotes socialization and encourages respect for the guidelines and norms among those who practice it. These values are therefore linked to the entrepreneurial philosophy of Andreu Barberá.
While the sporting success of the project was not the main objective, in this case it has occurred immediately. On March 9, the Andreu Paterna was proclaimed Autonomous Champion in Division of Honor, the highest category of Valencian Chess. He did so by adding up his ninth victory in the interclubes tournament, with a track record of spotless triumphs, so he is mathematically already champion with two days to go.
After winning this tournament, for the third consecutive year, the Andreu Paterna Chess Club will face the second great challenge of the season, as is the dispute of the Spanish Championship of First Division that will take place in the locality of Linares next month of August. In addition, our club will try to revalidate the regional title of fast games, which will be contested at the end of 2019. In this way, we still have an exciting year in which Paterna has the opportunity to continue making history in Valencian Chess and at the national level.
From Andreu Barberá \"we congratulate the members of the club who, with their good work, have been able to obtain this victory. It is a satisfaction to be part of this project and to support in our municipality the dissemination of a classical game that contains in itself a whole philosophy of life and that is so beneficial for the people who practice it. We hope that our contribution will strengthen a club and enable it to achieve the goals proposed for this season\".